Meet the Team - Jane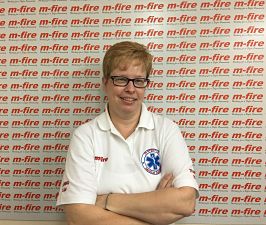 Jane has recently joined M-Fire with a wealth of experience.
She has over 10 years experience in Secondary Education in a supervisory role and over 15 years as a First Aid Trainer. Jane is also a qualified Emergency Care Assistant and a volunteer Community First Responder.
In her spare time she is a Uniformed Volunteer with the RAF Air Cadets and a Duke of Edinburgh Awards Assessor, as well as a First Aid Trainer/Assessor for Cadets.
Loves: Outdoor activities, including walking, camping with friends and helping young people through Air Cadets.
Hates: Flying ... which is odd for someone who is associated with the RAF Lol....